We're often asked about our methods and products we use. In this article we briefly cover in detail how we achieve a high quality factory-like finish when painting cabinets.
We'll also cover some common limitations and problem areas at the end.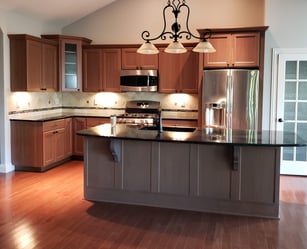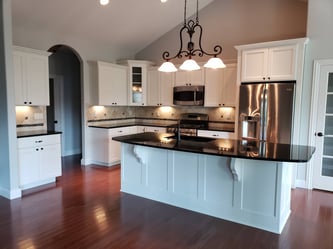 There are many methods and products used for painting cabinets by homeowners and professionals alike. We cover some generalities on these difference, as well as Cabinet Refacing, on our Starter Pricing Guide Page, where you will find quality and pricing can differ greatly.
Why would I want to pay thousands of dollars for a professional finish for my cabinets?
First, a quick reference on cost: relative to other painting jobs in your home, a high quality, professionally sprayed cabinet finish is significantly more expensive.
Why? A coating that will last and also feel like a factory finish is significantly more labor intensive; needs more expensive materials for both prep and coatings; and requires a higher equipment cost and learned skill.
Before selecting a company, it's highly recommended you see and feel samples to judge the quality relative to the cost.
How does Fresh Faced Cabinets Prepare and Apply their Cabinet Coatings?
We are a niche cabinet improvement business, thus all of our efforts go into improving you're existing cabinets. Our goal is to make your existing cabinets look and feel as much like a new cabinet as possible. Full Cabinet Painting is one of our improvement methods, as well as Cabinet Door Replacement and Refacing.
Our Application Process: Typically 4-5 days.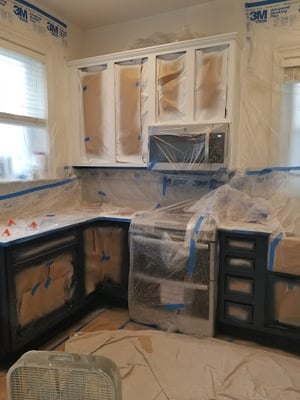 (Methods may vary depending on style and condition of cabinets, and the layout of your home.)
Prep: We remove doors and drawer fronts for spraying.
In our initial inspection we will have discussed any physical damage (cracks, loose parts, dents, etc.) that can be repaired.

We will use appropriate glues, wood putties and/or bondo to make repairs.
Knob/handle holes can be filled if a new size/design is desired.

All painted surfaces are extensively cleaned and degreased. This may be the most important step!
We lightly sand the existing coating to help adhesion of the primer coat.

We use a high quality sander with dust extraction, virtually no dust is created.
We do not sand to bare wood.

We lightly clean again with a denatured alcohol/water mix to remove any remaining dust and contaminants.
Great time and attention is given to masking, taping and building plastic walls to cover/block paint spray from all surfaces.

Spraying in the home does generate over-spray dust. We work diligently to contain it, but as in many construction projects there may be a small amount that escapes into adjoining rooms.

In addition to prepping the kitchen area for spraying, we will build a spray booth in the garage for painting the doors.

We have a door hanging system, allowing us to spray both sides at once.
This system requires two small holes in non-visual areas on the top or bottom of each door for hooks.
Temperature and Humidity are important factors to the success of our coatings. Certain times of the year we will coordinate with you for the best set up. Solutions have included painting in basements, dining areas, or setting up the drying racks inside the home.

Primer coat: Our main primer coating is a water-based 2K poly primer formulated to work with the final topcoat and can be tinted to appropriate color.


The 2K primer has a hardener added that greatly improves the blocking properties, durability and final topcoat appearance.
Light sanding will be applied prior to final top coat.
Oak Doors: Due to the heavy, deep grain of oak, an additional step of back brushing primer into the grain may be required. This will not eliminate the visual presence or feel of the grain, it will simply improve the color of the grained areas.

Main Top Coat: We use a high quality, pigmented, water-based 2K polyurethanes made for the cabinet manufacturing industry.

These products are designed to apply in one thick coat and level out to a smooth, cabinet rated finish.
These products were developed by Italian coatings companies that have developed some of the top rated water-based coatings world wide. We've used many great coatings prior, but nothing has compared to the final product offered in this coating for feel and durability.
The designation 2K, means it has two parts, a hardener is added for additional durability and chemical resistance.
It is very forgiving if the occasional run needs to be sanded out, and an additional coat can be applied.

Once all is dry, most of the masking and plastic is removed.
We rehang the doors and apply the hardware.

We have a selection of hardware you can choose from, you can supply the knobs or handles, or you can re-use what you have.
For typical doors with cup hinges, the hinges are re-used. We can also offer you an upgrade to soft-close hinges.
For older cabinets with surface-mount or knife hinges we will need to evaluate the condition of the hinges. Most can be replaced, but some are difficult to match exactly.

Job Complete! We pack up and move on to the next job.
What are some limitations or common problem areas in a cabinet painting job?
These points also cover many common questions we get:
We do not paint Thermal Foil or Laminate cabinets.
However, many cabinets are built with melamine (paper coated) side panels. We do paint these cabinets, but caution that these surfaces are easier to damage. Painters tape can take the coating off if future wall paint or tile work is being done.
Cabinet doors have natural seams at the joints of the rails and stiles. Over time natural expansion and contraction will cause seams to develop hairline fractures. This is inherent in all painted wood doors, even cabinet manufactures have disclaimers for this in their products.
Specialty Cabinets:

Glass door cabinets will be painted by hand inside to match color.
Wine Racks cannot be painted on the interior. We will discuss options, including replacing with a new wine rack cabinet.

Specialty Cabinet Areas: Desk, Wet/Dry Bars, Butler's Pantries or other cabinets set apart from the main kitchen area will be evaluated separately. Often times it is more time and cost effective to brush and roll the cabinets in these areas than to spray.
Vaulted Ceilings are more difficult to encase and can lead to slightly more dust escaping depending on ventilation.
As mentioned before, temperature and humidity are factors in the drying process. Our coatings need to be applied in around 60+ degrees temps. At times we will need to use extra rooms in the home for drying.
We will require the whole garage for work space in most homes.
Related: