Crown Molding can affordably add a dramatic custom cabinet flair to your cabinet refacing or painting project.
Unfortunately, when a new home is being built one of the first areas to be left out is decorative moldings. Too often the builder and home buyer are focusing on high and vaulted ceilings in the kitchen to open up the space, but to cut corners forgo the crown moldin and don't fully take advantage of the space they provided.
Whether refacing or painting cabinets, we always look for ways to enhance the current cabinets. One of the best ways to make those small cabinets look new and custom is to add crown molding, and even under cabinet molding.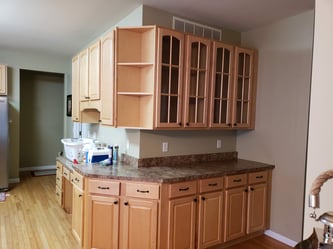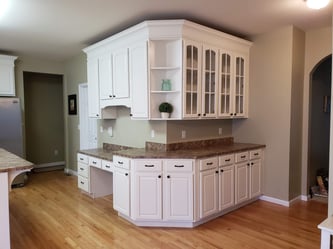 The above before and after picture show a St. Charles home that we painted. The builder did use 42" tall cabinets on the high walls, but buy adding a stacked crown molding prior to painting we were able to take those old plain builder grade cabinets and make them look custom built.
What if you have soffit/bulkheads?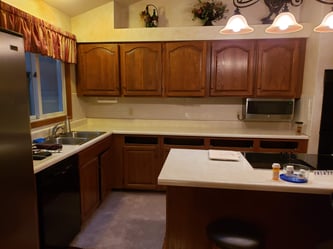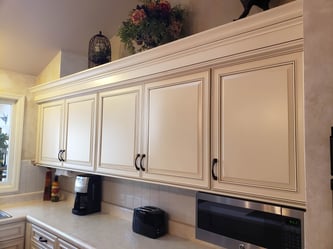 Another feature common in kitchens decades ago were soffits built in over the cabinets. These can give a kitchen a dated look, but can be a mess to tear out and require a full kitchen demolition. A much more affordable option is to make them look like part of the cabinets as a tall stacked crown molding. In the above example, we covered the soffit with a decorative base molding mounted upside down, and a matching crown molding atop it to cover the soffit. The soffit is gone, but it is still a functional shelf for decor items.
What type of Crown Molding are Available?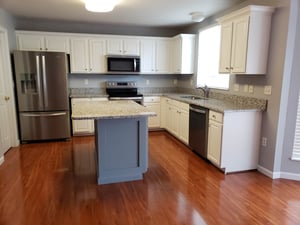 Traditional: A classic style, what most of us imagine when we think crown molding. Usually it has a detailed lower profile with a large curved, ogee profile toward the top.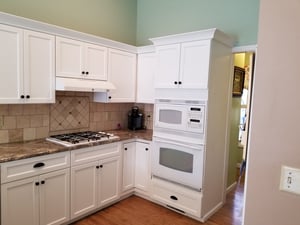 Cove: A cove crown molding is a transitional style of molding that can accentuate either a modern or traditional style.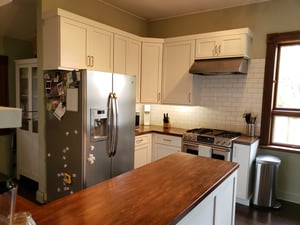 Square: A simple block molding that has been popular in recent, modern kitchen and also goes with arts and crafts style cabinets.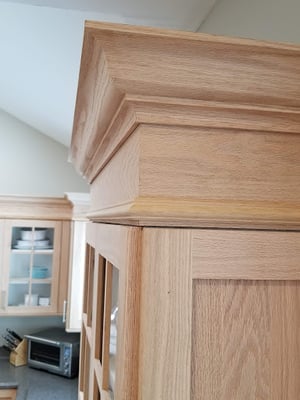 Stacked Crown: When you want more height on your cabinets a stacked crown can be created. It can be done in any crown style, and is the process of using multiple molding types to build up the crown higher. In the photo, a 6" board is applied with a traditional crown molding on top. A thin bead molding is added at the bottom to cover the transition and add visual interest.